Nom, Nom, Nom
The sun has returned! Beleaguered Ypsilantians have begun to stumble out into the light, ready to make up for lost time with events, friends, and one of our community's great loves: dining. Your taste buds are going to be so happy. Venture out and experience what's new in the Ypsilanti restaurant scene! (Pictured: Pork banh mi from K & D Bistro)
Sidetrack - New Menu Items
This month signals the return of Sidetrack's summer beer list, perfect for sipping on their sidewalk and patio seating. Several new items are also popping up on the menu, including reuben egg rolls, and mac & cheese egg rolls. These new egg rolls riff on Sidetrack's existing offerings in the "quirky egg roll" genre, the Southwest egg rolls (black beans & corn) and Irish pub egg rolls (ham & swiss with dill pickles). Maybe you can even order an egg roll flight?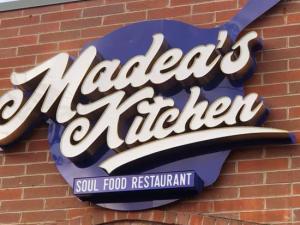 Madea's Kitchen - New Restaurant
This new Ypsilanti Township soul-food restaurant serves up a buffet of impossible-to-choose-between dishes in generous portions. From smothered pork chops to catfish nuggets and greens, every person in line (and there were lots) planned to order something different, and none of them were first-timers (just me).
I ordered BBQ chicken, mac & cheese, and mashed potatoes and gravy, and—generous portions though they were—ate every last bite. Madea's Kitchen is carry-out/order online only, so plan a picnic nearby or bring your bounty home to dine with your people.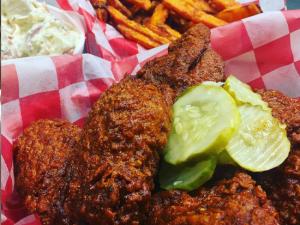 Ma Lou's — All Kinds of New
Watch for more information forthcoming, but Ma Lou's is not only expanding their hours (later nights, Friday/Saturday lunch service!), but also expanding their menu to include several new sandwiches. As you watch for updates on exactly what the new sammies will be, keep your eyes peeled for renovations and updates to their dining room as well.
K&D Bistro - New Restaurant
This new restaurant, also in Ypsilanti Township, is the pho joint that townshippers have been waiting for. Specializing in Vietnamese banh mi (with a variety of different meats, including a lemongrass chicken) and traditional pho, K&D Bistro is destined to become our new get-well-food stop. K&D Bistro is located on Anna J. Stepp Dr., and their grand opening will be on May 13th!
Ollie Food & Spirits — Spring cocktails, and a spring menu
We'll have to wait on a few more Michigan produce farmers before Ollie will release their new seasonal menu, but the wait is over for new cocktails! In addition to slinging a full complement of classic cocktails, their list of signature cocktails is a bonanza of floral and springlike flavors. Consider the Nine Times Out of Ten, made with montelobos mezcal espadin, raspberry, hibiscus, clove, lime, and mint, or consider Mind on My Money, which features Michigan gin, fresh grapefruit, honey syrup, peychaud bitters, and quinine.
Whatever new offerings you check out this spring, use hashtag #YpsiReal in your social posts and let us know!
Like our content? Get all the Ypsi Real latest delivered to your inbox directly. Subscribe to our monthly email newsletter.