Bars, Pubs & Breweries
Ypsilanti is a bar and brew destination, home to a unique and diverse scene. The options are broad and always full of original, local flavor, and the craft beer culture is vast and varied. Home to brewers specializing in ales, lagers, sours, and more, you'll find the perfect beer for you in the area brew scene.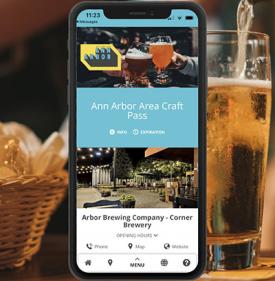 Good times are always on tap in Ypsilanti! Sign up for the Ann Arbor Area Craft Pass, a mobile passport to lead you on a self-guided tour of our local craft breweries and distilleries. The FREE pass will steer you to the best beverage artisans around the county. Get exclusive deals. Check-in digitally to a minimum of 8 participating breweries or distilleries and win a collectable pint glass! Learn more about the craft pass and sign up. 
Ypsi loves its local flavor, and you'll see that in all the local breweries. 734 Brewing Company was started by three locals, who love showcasing the greatness and quirkiness of their home, while connecting the community and making inclusive brews. Corner Brewery is also the product of long-time Ypsilanti residents, with a tradition of producing sour beer and being a favorite local hangout. Truly one of a kind and uncompromisingly Ypsi is Unity Vibration. Charged with their mission to produce the best artisan Kombucha Tea and Kombucha Beer products on the market, they create with the healthiest ingredients possible and a whole lot of love. Ypsi Alehouse has a long history in the community and brews right on site! They've been brewing craft beer in Michigan since microbrewing began in the Midwest, and host frequent live music and lots of trivia, so it's a staple of area nightlife!
If bars are more your scene, there are plenty of those as well. Aubree's is home to some of the best pizza in Ypsi, and Stick's is right upstairs with a full bar and plenty of pool tables! The Tap Room is another local favorite, a neighborhood bar with great food and great drinks, home to open mic nights every Thursday. Wurst Bar is another place perfect for a night out, with daily specials, a bingo night, and lots of trivia, and home to some of the most-loved local burgers.
There's a whole lot more places to check out in the summer as it warms up. There are patios all across down that are perfect for dinner and a drink – especially during First Fridays Ypsilanti, on the first Friday of each month! Take a look at our blog here for a selection of well-loved and highly recommended outdoor options.