Make Ypsilanti your top holiday stop this season!
Visit the Ypsilanti area this holiday season for an enchanted experience in our charming city. There are plenty of events happening and things to do - you may find yourself getting cozy by the fireplace at Corner Brewery, or perhaps feeling like you're in a true Winter Wonderland as you encounter live reindeer at the library. Ypsi has several holiday markets and unique shopping adventures, delicious eateries preparing seasonal plates created from the finest and freshest ingredients, annual holiday festivities happening throughout the season, and even a few visits from Santa himself. You will find so much to do in the Ypsilanti area this season!
Shopping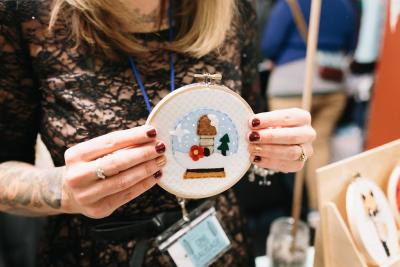 Make Ypsilanti your one-stop shop for all your holiday gifts and goodies.  With numerous holiday craft and vendor shows and local specialty stores to be discovered all around Ypsilanti, holiday shopping will be easier than ever this year!
Set the mood for the season by visiting Unicorn Feed & Supply during their Holiday Reveal Party for outstanding decorations and displays! The party kicks off in November and the decorations continue throughout the holiday season. With a wide selection of specialty gift items including stocking stuffers and an extraordinary ornament selection, this is one holiday party you must see to believe!
For an extensive array of Ypsi-themed products and other festive finds, spend some time making your way through the DIYpsi Indie Art Fair Holiday Market. Now in its 10th year, this annual market will feature over 100 of the best makers and crafters in the Midwest selling their handmade goods and holiday gifts! Grab a bite to eat from local Ypsilanti food vendors located within the market, and enjoy live performances and make-and-take projects available for all ages throughout this two-day event. Remember to treat yourself and buy a little something special for yourself too!
Dining & Sweet Treats
While in Ypsilanti, discover the hidden gems that show why the dining and desserts in Ypsi are incomparable. While in the downtown district, enjoy a traditional Thanksgiving dinner at Haab's with all the fixings, and visit B-24's Espresso Bar for their specialty seasonal Holidaze latte. Stop into Terry Bakery for a sweet treat after admiring their holiday display in the iconic storefront window!
Tour Depot Town and stop in at Ollie Food + Spirits for a themed Sunday brunch or special cocktail dinner event. Be sure to visit Cream & Crumb next door for dessert - they carry local baked goods including vegan options, as well as regular and alcoholic milkshakes with Michigan-made ice cream.
Panadería la Bendición, located across from Eastern Michigan University's campus in the West Cross district, is worth a trip on its own! This family-owned authentic Guatemalan bakery offers a variety of baked goods and pastries as well as specialties like sweet breads and their infamous chocolate-covered strawberries - a perfect portable indulgence to enjoy while exploring. Grab a few extra goodies and bring some to your friends and family to try, they'll thank you later!
Family Fun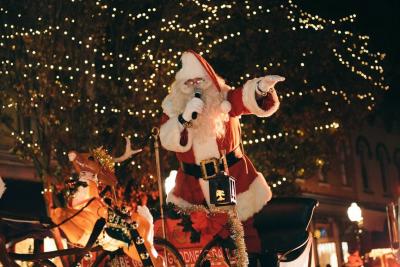 Gather the family and head to the historic Ypsilanti Freighthouse for a holiday celebration! This year, the annual Freighthouse Holiday Festival welcomes you for crafting, live music, and tons of holiday fun.  Learn how to make up-cycled cards and crafts, enjoy holiday storytime, and sing a carol with the Out Loud Chorus. Santa will also be stopping by to take photos. Hyperion Coffee Co. will be on-site and ready to serve delicious hot chocolate and coffee to keep you warm!
Experience the wonder of Depot Town during the annual tree lighting ceremony. Live reindeer, caroling, hot cider, an appearance from Santa, and more will be offered at this fun and free event! Looking for more dazzling lights and family fun? Head downtown to the Ypsilanti District Library for the Downtown Tree Lighting event just a couple of weeks later. Decorate cookies together and enjoy a nice cup of hot chocolate on the library's plaza.  
Keep an eye out overhead- Santa will be flying in on his private helicopter to make a stop at the Yankee Air Museum! Santa will be joining friends from the Ann Arbor Hands-On Museum and Leslie Science & Nature Center for activities and animal presentations that are fun for all ages. Bring the children for a photo op with Santa during this stop, and explore the museum free of charge!
Nightlife
From tasting seasonal craft brews at local microbreweries to catching late-night live music, you'll find some fun after dark in the Ypsilanti nightlife scene. Catch a one-person theatrical performance of The SantaLand Diaries in the heart of downtown Ypsi! Based on autobiographical stories of playwright David Sedaris, you will follow the journey of a man who, when unable to find other work in New York City, takes on a position as Crumpet, a Macy's Santaland elf. Listen to his comedic and sometimes serious experiences while working behind the scenes in one of the most chaotic holiday-time environments. This production has become a yearly tradition for many, capturing audiences across the nation!
Looking for a good-time holiday get-together filled with music from 20+ bands? Mittenfest XIV returns to Ypsilanti for three nights of non-stop entertainment! This multi-day concert will feature Michigan musicians and artists bringing you their latest and greatest hits, and all for a good cause. Organized as a fundraiser for 826Michigan, this annual holiday music festival combines both passion for music and a love for community into one event. 
So Much More
Take part in a decades-old Ypsilanti tradition by attending the 23rd Annual Holiday Home Tour. Guests will visit a selection of specially decorated Ypsilanti homes for the holiday season, followed by an afterglow reception at the historic Michigan Firehouse Museum, which will also be decked out in the finest holiday fashions! Explore the museum's impressive collection and enjoy live jazz music and dancing, food and drinks, and pinball throughout the evening.
Love to dance? Ring in the New Year and dance the night away at the Michigan Kizomba Fusion Winterfest, where the art of connection, movement, and playfulness all come together in one place. Two rooms will feature dancing and workshops in Kizomba/Urban Kiz and a variety of related genres. In addition to the workshops, a 24-hour dancing marathon, New Year's Eve Gala and dinner, and New Year's Eve party are all included in this three-day event.  
With so many unique local shops to visit, events that promise to entertain, and with a wide range of dining and dessert options, make Ypsilanti your top holiday stop!  Check back regularly for an updated list of holiday happenings around the Ypsilanti area. 
Ypsilanti Holiday Happenings: 
November 24
Depot Town Tree Lighting & Santa visit
Depot Town area

November 27
Thanksgiving Eve Party
Cultivate 

November 30
Holiday Craft & Vendor Show
Huron Valley PACE
 
December 1
Paul Keller Ensemble - Holiday Jazz
Ypsilanti District Library - Whittaker Branch
 
December 3 & 10
Season of Light
Eastern Michigan University – Planetarium
 
December 6
Downtown Tree Lighting
Ypsilanti District Library – Main Branch
 
December 7
Freighthouse Holiday Festival
Ypsilanti Freighthouse
23rd Annual Holiday Home Tour
Various Locations / Michigan Firehouse Museum
Ypsi Makers Market Holiday Craft Show
Willow Run Middle School
 
December 10
Tis the Season Holiday Show
First Presbyterian Church

December 13
WCC Concert Band presents: Art of the Holidays
Washtenaw Community College – Towsley Auditorium
Holiday Toy Drive & Drag Bingo 
The Tap Room
 
December 13-15
A Man for Christmas: A Made for TV Musical Parody
Back Office Studio
A Charlie Brown Christmas Play
Riverside Arts Center 
 
December 14
Pancake Breakfast with Santa
Rolling Hills County Park
Breakfast with Santa: Christmas in Space
Sidetrack Bar & Grill
Winter Wonderland
Ypsilanti District Library – Whittaker Branch
Holiday Family Friendly Drag Queen Story Time & Show 
Tap Room 
Return of Krampus
Dreamland Theater
10th Annual Holiday Ball
The Dance Pavilion
 
December 14-15
DIYpsi Holiday Market 2019
Riverside Arts Center
 
December 15
Holiday Movies Trivia
Cultivate

December 17
Bike Ypsi's Annual Holiday Lights Ride
Arbor Brewing Company Microbrewery

December 13 – 22
The Santaland Diaries (ages 21+)
117 Pearl St.

December 21
Santa Clay Visits the Co-op
Ypsilanti Food Co-Op

Santa Visits the Yankee Air Museum
Yankee Air Museum

December 24
Christmas Eve on Tap
Tap Room
Ugly Beer Party
734 Brewing Company
 
December 27-29
Mittenfest XIV
Riverside Arts Center

December 28 - January 1
Spotlight New Year's Celebration & Competition
Ann Arbor Marriott Ypsilanti at Eagle Crest

December 29 - January 1
Michigan Kizomba Fusion Winterfest
The Dance Pavilion

December 31
New Year's Story Telling
Cultivate
A Stellar New Year's Eve
Arbor Brewing Company - Microbrewery
Dawn Farm's Umbrella Ball
Dawn Farm Community Barn
Dragin' for a Cure for HIV- NYE Party
Tap Room
Kitty Delicious Queer Burlesque Presents: An Iconic New Year's Eve
Dreamland Theater
Roaring 2020 Party
Cultivate
Sober New Year's Eve Party
Riverside Arts Center
Check our full calendar of holiday events for an updated list of happenings in Ypsilanti!