You've probably heard of Rosie the Riveter, that iconic figure of American spirit. Many people may also know that Rose Will Monroe traveled from rural Kentucky to Ypsilanti, Michigan to work among thousands of others during World War II. But what about where she worked and what she made? Find out more about Rosie's world by exploring this online story map and keep reading to learn a few fun facts on Rosie's place of work. Plus, in 2017, the Yankee Air Museum reclaimed the Guinness World Record for the Largest Gathering of Rosie the Riveters! 
The Willow Run Bomber Plant, located just outside of metro Detroit in Ypsilanti Township, was the pinnacle of American innovation at the time of its construction.  Between 1940 and 1945, workers built the plant and accomplished something truly astonishing: one B-24 Liberator rolled off the production line per hour. Its guns were immediately tested, and then the plane was sent into battle!
This mind-boggling feat of engineering and logistics was accomplished with Ford Motor Company-designed planes and Packard engines, both titans of Michigan manufacturing. America's strongest auto companies rallied their workforces to create an incredibly powerful industrial complex nicknamed the "Arsenal of Democracy." 
Fun Facts About the Arsenal of Democracy
The Willow Run Bomber Plant was designed by internationally significant architect Albert Kahn, Detroit's foremost architect and designer of the University of Michigan campus.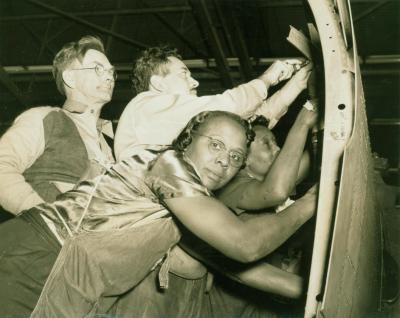 This installation symbolized American automakers' role in the War Effort. It employed 40,000 workers – including women, whites and blacks from the rural South, and even "Little People" actors from the film Wizard of Oz.
It was pivotal in the expansion of the American middle class and suburbanization in Michigan. Workers were drawn from every state to live initially in tents and shacks, with hopes of rising out of poverty conditions and making wages previously thought unattainable. This workforce persisted, large scale housing developments were built to house them, and the site was later converted to auto production.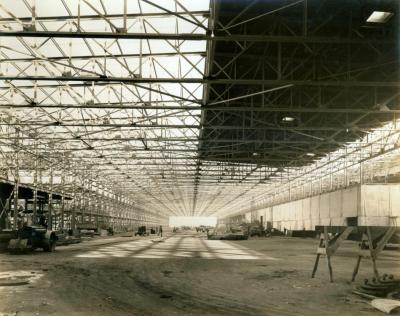 The complex had a building footprint covering more than 5 million square feet. The sheer amount of traffic was a catalyst for regional transportation expansions including the world's first triple-decker highway interchange.
Speed defined the site. Engineer Charlie Sorensen implemented his pioneering model for just-in-time-manufacturing to hasten production.  Famed pilot Charles Lindbergh conducted aerospace design and test flights at Willow Run.
Fast forward to 2017. The plant no longer stands, except for a portion being reused by the Yankee Air Museum, but site re-developers are making way for the new American Center for Mobility. This connected vehicle testing facility for autonomous cars is capitalizing on the existing talents and resources in our region, and continuing our role as leaders in engineering innovation.  Rosie would be proud! 
Check out the Story Map and other Washtenaw County Heritage Tours by visiting www.ewashtenaw.org/heritagetours or click here to go directly to the Willow Run tour. And, if you snap a pic of one of these fantastic sites for yourself, use the hashtag #YpsiReal to share it with us.