This holiday season, support small businesses by shopping in Ypsilanti. We've put together a quick-glance shopping guide in Ypsi to get started.
Included are many, but not all, of the wonderful shopping ideas Ypsilanti offers. Remember to pick up something for yourself- you deserve it!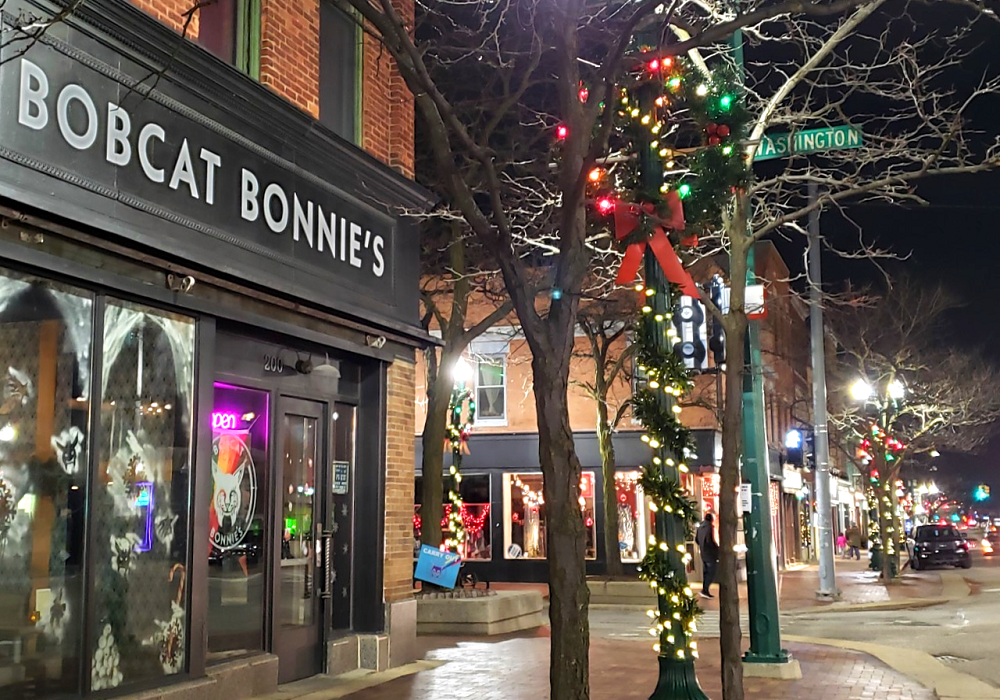 Ypsi-Themed Gifts 
Stardust Ypsi: Ypsilanti's Galactic Gift Shop carries art prints, keychains, mugs, and a large variety of Ypsi gifts created by area artists.
Brick & Mortar Modern General Store: This modern shop carries Michigan-made products and Ypsi themed items. The creative owners also specialize in custom framing for the perfect gift. 
Stone & Spoon: Artisan home and garden goods make great gifts! From Ypsilanti magnets and notebooks to water tower night lights, find a perfect present here.
The Rocket: Shop thousands of super cool gifts including Rosie the Riveter items, Ypsi T-shirts, stickers, and novelties. Browse ornaments, Pop! Figures, and a full wall of prepackaged candy. 
Unicorn Feed & Supply: This unique shop carries "Ypsi Sparkles" pins and shirts, LGBTQ+ themed gifts, sticker books, and the softest stuffed animals ever!   
View more specialty shops here. 
Support Area Artists 
This, That & the ODDer Things: Pick out stocking stuffers and mystery pre-made gift boxes at TT&OT. Find artwork, tarot decks, spell kits, and interesting one-of-a-kind finds here.
Twisted Things: Carrying work of 50+ area artists, shop organic apothecary and curious goods including oddities, plus ethically and sustainably sourced animal and plant items.   
Nelson Amos Studio: Give the gift of creative artist services including custom cards, framing for all sizes, oil portraits, and images of Ypsilanti to share the Ypsi love.   
Art Galleries: Bring home a unique art piece from area art shows at The Gallery at Stone and Spoon and the Michigan Art Gallery. Visit 22 North for expressive and visual artwork.
Vendor Markets: Purchase artwork from talented artists at vendor showcases including the Krampusmrkt and Holiday Extravaganza. 
View more holiday events here.  
Only in Ypsi:
Unique Retail
Blackstone Bookstore & Cultural Center: Specializing in African American literature, visitors can browse books, documentaries, and jewelry. Blackstone is also connected to the industry's largest active book inventory.
The Conjure Goddess: Products are carefully crafted and positively intended to empower and connect. Browse manifesting oils and candles, cosmetics, sage products, and more.
World of Rocks: This popular specialty store carries rare gems, fossils, and crystals. Help design and create custom jewelry for loved ones with your choice of gems.
Evenstar's Chalice: Spiritual supplies including prayer beads, candles, and services like tarot readings are available here. Give inspiring journals and artwork for the perfect present.  
Coolest Clothing 
Puffer Reds: This family-owned business and entertainment destination carries the latest apparel exclusives, rare sneakers, and brands like Ivy Park and Nike for any age and style.
Love at First Try: Browse new arrivals and seasonal top picks at this boutique carrying curvy love apparel and the latest fly, fun, feminine fashion.
MIX: Browse a curated collection of artistically chic clothing, jewelry, and accessories. Each piece is a work of art and a fashion statement.  
Ypsilantique: This cozy spot specializes in vintage clothing from dresses to accessories to beautiful hats and more. 
Thrift Shops: Thrift shops in Ypsilanti offer toys, clothing, shoes, decorations, and all kinds of goods. Visit the Ypsilanti Thrift Shop downtown, and the Thrift Depot in Depot Town.

Antique & Vintage 
Salt City Antiques: Explore two stories of Mid-Century furniture, antiques, and books. Find a selection of retro holiday decorations and gifts that will take folks back in time.   
A2 Vintage: This downtown shop is a must-visit for vintage gifts. Discover nostalgic collectibles, clothing, records, and items from your childhood at this Ypsi gem.
Jim MacDonald's & Apple Annie's Vintage: This Depot Town storefront carries silver goods, apparel and hats, a selection of old and new toys, Kit-Kat clocks, and all things vintage. 
Ambient Antiques: Shop from a personal collection of carefully chosen antiques! From seasonal-themed items to the great piece you know someone will love, Ambient has it all.   
Materials Unlimited: This picturesque space is filled with stained glass masterpieces and historic furnishings and fixtures. We're sad to share Materials Unlimited is closing at the end of 2022. Visit, purchase your favorite items, and wish the team well in their next adventure. 
View more antique & vintage shops here.    
Hobbies & Special Interests 
Ypsilanti Running Company: Walkers or runners on your list? The friendly staff will help you find stylish outdoor apparel, top quality running shoes, and gifts for stocking-stuffers. 
Schultz Outfitters: This fly-fishing shop & guide service specializes in angling, instruction, and fishing trips. Schultz carries everything a fly-fisher needs.
ModelCave: Choose from model cars, planes, boats, and figures at this single stop model shop. ModelCave offers new and vintage kits, tools, paint supplies, and plenty of fun.
Olympia Skateshop: Stock up the skaters on your list with the right goods for the skateparks nearby. Buy footwear, apparel, skateboard decks and hardware.
Comics and Board Games: Visit Fun 4 All Comics & Games for new comics. Golden Rhino Games serves the tabletop gamers, and browse pre-owned games and consoles at Gamepawn Ypsi.
 
Love of Music  
WaxBar Ypsi: Glance through a variety of new and used vinyl records with fresh arrivals daily. Purchase records personally picked by you for the music lovers on your list.
Technical Equipment Supply: Discover hard-to-find music, branded beanies, books, skating decks, and totally unique gifts at this low-key, cool music and skate shop.   
Ziggy's: Support area musicians and artists by buying comic books, CDs, cassettes, and other swag. Ziggy's carries Michigan-brewed beer to purchase for the beer lovers. 
Grove Studios: This 24/7 recording studio and creative space offers gift cards for self-service music, DJ, podcast, photography and video, and Grove merchandise.
More records & music: Search through vinyl records at A2 Vintage. The thrift shops and Black Stone Bookstore also carry a number of CDs and records to choose from.  
More Great Gift Suggestions 
Gift Cards: Pick up gift cards from Ypsi restaurants, coffee shops, and breweries and support small businesses through the holidays! This is always a win for gift-giving.
Sweet Treats: Bring home a dozen of Dom Bakeries donuts for a flavor of Ypsilanti for your out-of-town guests. Explore sweet treats here.
Theatre & Shows: Theatre has returned to the stage! Buy tickets for upcoming productions from Horizon Performing Arts and Eastern Michigan University Theatre.
Workshops: Art hubs like Be Creative Studio and Riverside Arts Center host creative workshops of various kinds. Surprise someone with a fun day creating something new together. 
Give Back: Groups like the Secret Santa Society of Ypsilanti are giving back by supporting local families by collecting, wrapping, and delivering gifted donations. Sign up to volunteer.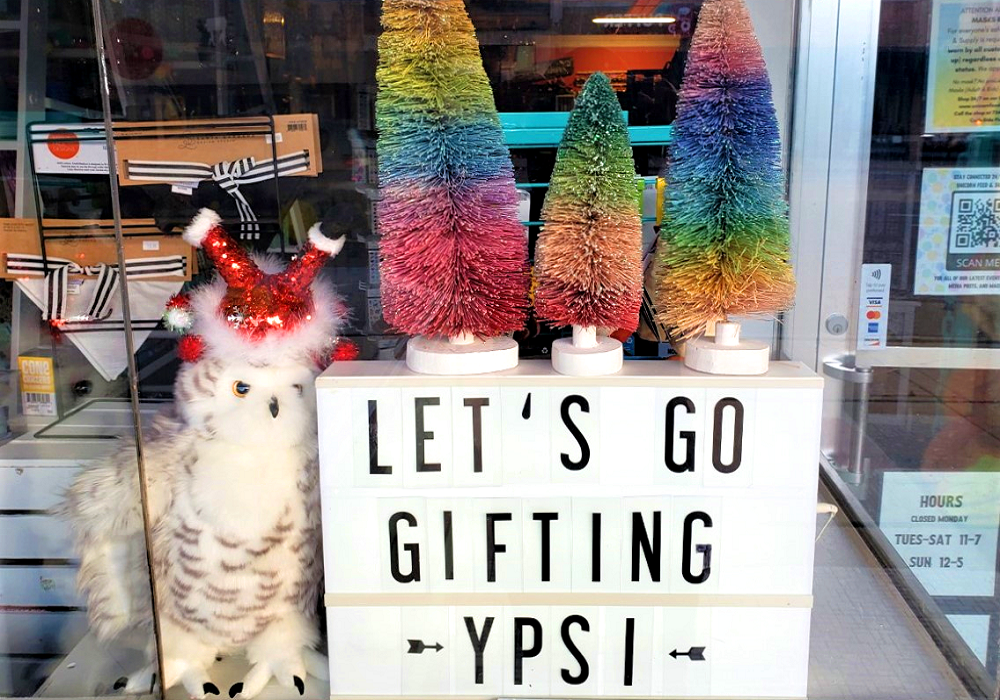 Like our content?
Get all of the latest Ypsilanti happenings delivered to your inbox. Subscribe to our monthly newsletter.
Follow Ypsi Real, @YpsiReal on social media. Instagram, Facebook, Twitter