While we are adjusting to our new normal and looking forward to going out and supporting area establishments as soon as possible, Ypsilanti businesses and restaurants are taking precautions and adding extra measures to welcome customers back in while maintaining safe and socially distant environments and practices. Downtown Ypsilanti and Depot Town have temporary road closures in place through November 1, converting streets into pedestrian-only walkways and creating more room for outdoor dining options, and special pop up events. Near Eastern Michigan University, area eateries and cafes have opened their patios. As establishments slowly and safely reopen, find out what you can do now around the Ypsilanti area! 
Please check and follow CDC guidelines on social distancing while visiting or participating in activities, including wearing a mask. We recommend calling establishments ahead of time to confirm hours and for updated rules and regulations.  
Effective July 13:  Governor Gretchen Whitmer toughened the mask-wearing requirement for residents through a new executive order. All Michiganders must wear masks in public indoor and crowded outdoor spaces. Refusal to wear a face covering could be punishable with a misdemeanor charge and up to a $500 fine. Businesses will refuse entry or service to people who refuse to wear a face covering.
Get Outside!  
Area parks are filled with open space and pathways to walk, a great place to take in the fresh air. Whether you're revisiting Ypsilanti history at Peninsular Park that was once the site of the Peninsular Paper Company, or walking along wildlife around Ford Lake at North Bay Park, the Ypsilanti area is full of parks with plenty of space to maintain social distancing and to keep peace of mind.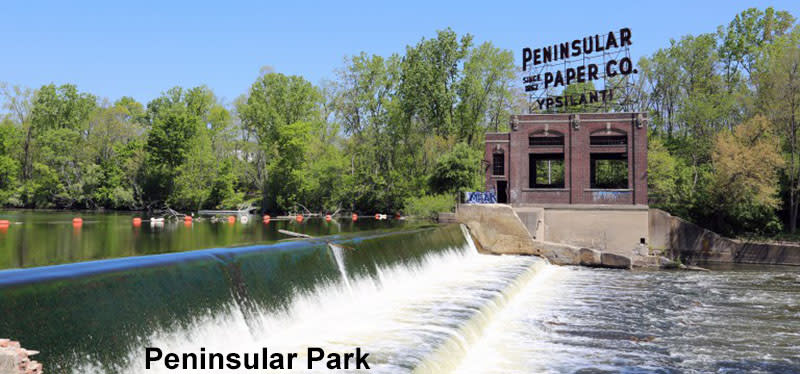 Interested in trails and hiking? Hop on your bike or grab your running shoes and explore the Border-to-Border Trail that travels throughout Washtenaw County. In Ypsilanti, follow the trail through the Eastern Michigan University campus, Depot Town, Downtown, and Ford Lake area. Find B2B Trailheads at Frog Island Park, Loon feather Point Park, and North Hydro Park.  
For yoga enthusiasts and beginners alike, head to Riverside Park for weekly Outdoor Yoga at Riverside on Sundays through July, hosted by Zion Well. These donation-based yoga classes help support local non-profit, We the People Opportunity Farm. Bring your own mat and space out as much as you'd like to participate in these guided yoga classes!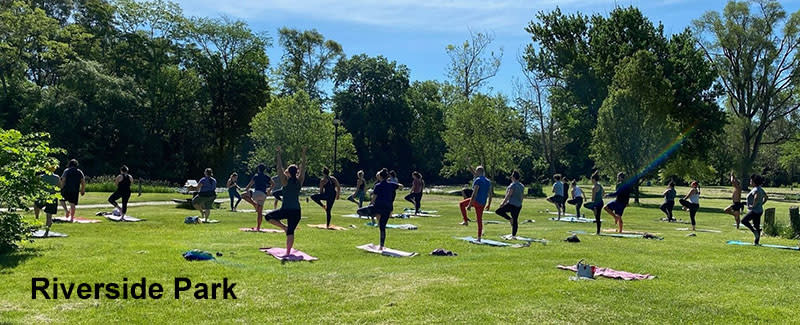 The City of Ypsilanti Parks & Recreation and Ypsilanti Township Recreation departments have created the #YpsiParks Photo Challenge, calling the Ypsilanti community to explore area parks and submit photos of ways to enjoy them! This can be a scenic landscape, volunteers participating in park clean-up activities, or simply relaxing in the sun.  Plus, top photos will earn prizes! How will you share your love for Ypsilanti Parks?  For more information and listings of area parks, click here. 
Outdoor Dining   
Restaurants all over the Ypsilanti area have opened socially distant outdoor and patio seating, and the pedestrian-only walkways in the Downtown and Depot Town area have provided room for area establishments to space out in order to follow new guidelines and regulations. 
Downtown on Washington Street (between Pearl Street – Michigan Ave), Beezy's has reopened with outside seating, perfect for a cup of coffee and breakfast, and 24th Cheesecakerie has set up family-friendly games outside of their storefront to play after ordering a tasty cheesecake! Bobcat Bonnie's has assembled walk-in open  'igloos' that are ideal for keeping distance during your meal, and you can now visit the beer garden for Ypsi Alehouse. On Michigan Avenue, Downtown barbeque favorite Red Rock has opened outdoor seating with front and back patios, and Encuentro Latino's new sidewalk patio is all set up!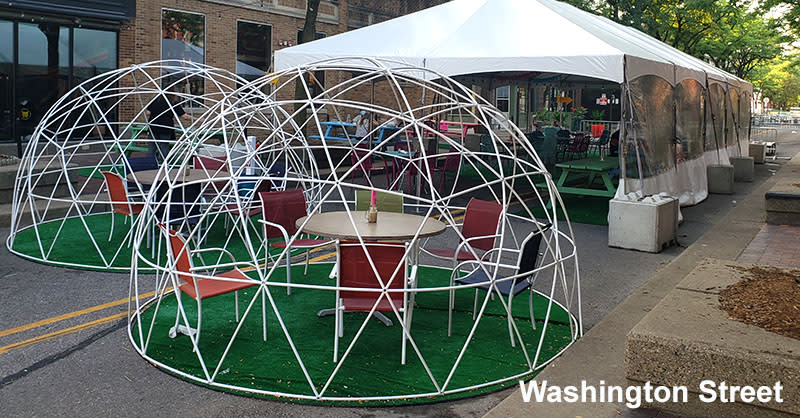 In the Cross Street district next to the Eastern Michigan University campus, Wurst Bar provides first come, first served limited patio dining for lunch and dinner and are now offering cocktails to-go! Tower Inn Café's patio along College Place is open with tables under a well-shaded area, and Sweetwaters Café has outdoor seating surrounded by small plants and herbs growing from garden bed fences.  
In Depot Town on Cross Street (between River Street and Rice Street), order your favorite specialty pizza at Aubree's Pizzeria and a refreshing drink to cool you down! In the mood for Mexican food? Maiz Mexican Cantina provides front and back patio dining, perfect for margaritas and floutas.  If relaxing outside with a cold brew (or root beer) sounds best to you, head to 734 Brewing Company for outdoor drinks, and on Fridays catch the Good Eats food truck out front!  
 
View more Ypsilanti restaurants. We recommend calling ahead for updated hours, regulations and guidelines for restaurants before heading out.   
Things to Do   
Many Ypsilanti area events have been redesigned to implement new social distancing measures safely. With a new flow and more space between tables, visit the Depot Town Farmers Market on Saturdays from 9am-1pm, where you'll find a variety of locally grown produce and baked goods from several farmers and vendors. Can't make it to the market? The Ypsilanti Area Online Farmer's Market allows shoppers to order online for either pick up or delivery. This market is a collaboration between Growing Hope, The Farm at St. Joe's, and Zilke Farm Kitchen.  On Fridays from 3pm-6pm, visit the Dixboro Farmer's Market for favorite goodies like artisan cheeses, local honey and jellies! Get more info on Ypsilanti farmers markets and orchards. 

The Yankee Air Museum has reopened to the public with new social distancing measures in place. Learn more about what to expect on your next museum visit.  The museum has adjusted events and activities to implement these new measures. Visit the museum's events calendar to learn about spending late nights at the museum, air adventure open houses, and tours of historic aircraft.  Please check for updated regulations and guidelines before visiting.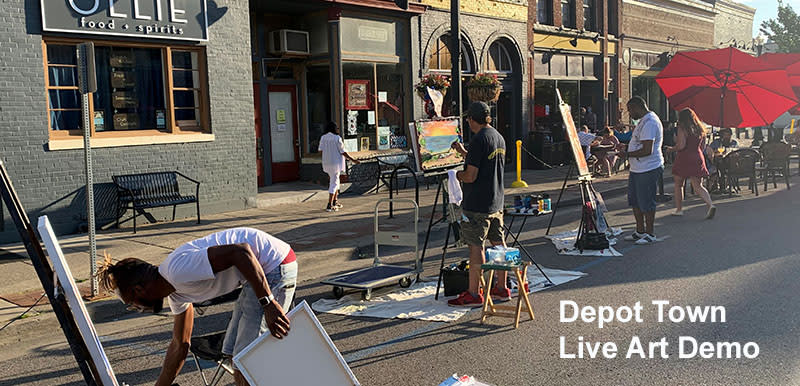 Watch for live pop-up musical performances and entertainment happening outside throughout the Downtown and Depot Town area. Drag performances and acoustic music have taken 'stage' in Depot Town, which was also the site of the most recent First Fridays Ypsilanti live painting art contest! The Ypsi pop-up shops that takes place Downtown brings local vendors to Washington Street to sell all kinds of home goods, including items to enhance your fairy garden, retro clothing, face masks with different patterns and colors, and more.  Learn more about the events happening in the Ypsilanti area. 
No matter how you choose to enjoy Ypsilanti, be sure to follow the requirements and recommendations of local and state health officials, the CDC, and your health care provider. All individuals are urged to continue to adhere to social distancing guidelines, practice frequent hand washing, utilize face coverings when in public and be respectful of others.
Like our content? Get all of the latest Ypsilanti happenings delivered right to your inbox. Subscribe to our monthly newsletter.