Summer is in its home stretch and autumn is right around the corner. A great way to enjoy the last few loooooonng days of summer is to sip on a drink or snack on some of the coolest patios around Ypsi. We went on a scavenger hunt around town to find the best restaurant patios, and here's our list of the top patios to hit up in Ypsilanti.
Cultivate
You can't argue that Cultivate Coffee & Taphouse has one of the coolest patio layouts ever. There are huge wooden bar tables inside the fenced-in patio beer garden, with rain covers and adorable twinkling lights hanging over head. Not to mention, they grow their own herbs and garden outside as well. Sitting out on their patio enjoying a Michigan beer or craft cocktail, with live music filtering out through the inside door, you'll be feeling the Ypsi love - we guarantee it. BONUS - check out their Sundays in the Garden music series!
Aubree's/Sticks
This bar/restaurant combo has a rooftop patio with a comfortable seating area that looks over the stretch of Depot Town. Plus it has a Tiki Bar—yes, it's that cool. Order off the Aubree's menu and have drinks brought out to your table in style or walk up to the bar and order. This patio is the perfect setting for your weekend party vibes.
Red Rock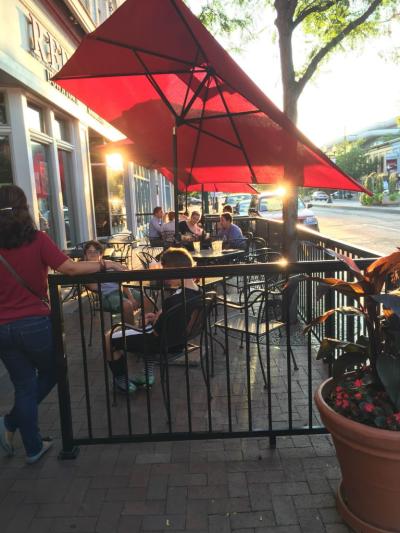 Red Rock's patio is tucked in between the Ypsilanti District Library and the Tap Room on the main stretch of downtown Ypsilanti. Its groovy large red umbrellas shield you from the sun during the day and the black iron fence offers some space between your table and sidewalk traffic. This patio is the perfect place to enjoy some of Red Rock's famous BBQ!
Wurst Bar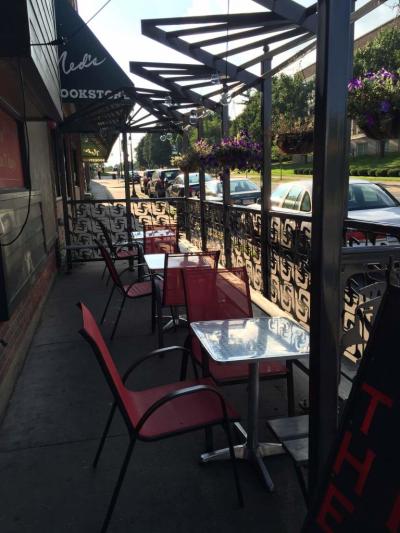 Wurst Bar's patio is the prime spot: right in the college district on Cross Street. It's what we sometimes call the "social patio", as there are always friendly and chatty people walking by. They've got the cute twinkle lights and the hanging flower baskets, and of course, all the tater tots you can eat. It doesn't get any more Ypsi-tastic than summer bratwursts on the patio.
Other notable patios in Ypsilanti: