Washtenaw County has true wealth in a vibrant selection of local Farmers Markets. Nearly every day of the week you can visit an area market and get fresh, locally grown produce, plants, animal products, handmade goods, and more. Two of our local gems are Ypsilanti Farmers Market and Dixboro Farmers Market.

The Ypsilanti Farmers Market has been hosted by Growing Hope for over 15 years. Alternating between Depot Town and their newly-opened Ypsilanti Farmers Marketplace, you can get your fill of local goods year-round. Here you'll find a variety of vendors to build a nutritious, colorful weekly meal plan - and don't forget to snack while you shop.

First, stop at Borage and Baskets and pick up a beautiful hand-woven basket to carry your treasures - start with one of their handcrafted herbal teas. Then, make your way over to the Ypsilanti Native Plant Nursery booth for native herbs and plants for your garden.  For dinner pick up a locally raised cut of beef, lamb, or pork from Feral Daughters farm, and up your seasoning game at Spicy Mike's Handcrafted Seasonings. An assortment of farmers will have you swimming in seasonal veggies and fruits for side dishes, smoothies, salads, and snacks. You can complete your trip with fresh cut flowers from Waters Garden and local maple syrup from Tassier Sugar Bush. Pick up a candle or a bath bomb from Rose & Perry co. and relax, knowing you've got a nutritious, local menu on lock.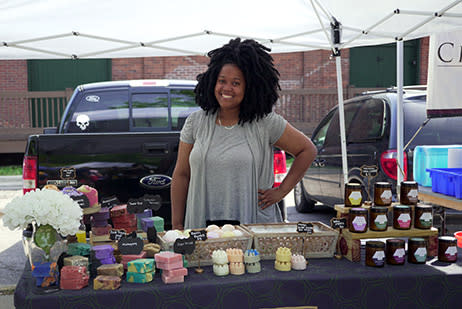 One of the wonderful things about the Ypsi Market is that the fun and value don't stop with the local food and craft vendors.  Heading to the market with kids? The market hosts a regular story time hosted by the Ypsilanti District Library. You'll also find the occasional cultural event or musical performance. Riding on two wheels? The Ypsi Bike Co-Op provides free bicycle repair and education, filling the gap of a local cycling shop right at the market. Entirely volunteer-run, the friendly folks here will happily repair your bike or let you use their tools and guidance to do it yourself. Donations are accepted to keep the program going.

But wait, there's more! The Ypsi Market hosts an incredible program from Washtenaw County, called Prescription for Health. This program, established in 2008, works to make connections between patients and their local farmers markets through local medical clinics. Health care providers can write "prescriptions" for their patients for fruits and vegetables, and these can be exchanged for tokens at the market to be used on local produce at zero cost to the patients. No minimum or maximum income level is required. Program staff also provide individual nutrition education and support. For more information on how to sign up and where to shop, click the link. (https://www.washtenaw.org/1829/Prescription-for-Health)

Vendors vary on each day of the week, so be sure to visit both Ypsi Market locations. When you're finished with the market, continue on to Downtown Ypsilanti or Depot Town for local restaurants, shops, bars, and more.

Another fabulous area market is the Dixboro Farmers Market, running May 31st through October 25th. Opened in 2012 on the Dixboro Village Green, this market aims to connect local residents with local farmers in what was once a quasi-food desert, to create and build community, and to promote health, wellness, and economic viability in the village of Dixboro. Like the Ypsi Market, Dixboro has a variety of food and craft vendors ready to fill your fridge and brighten your home.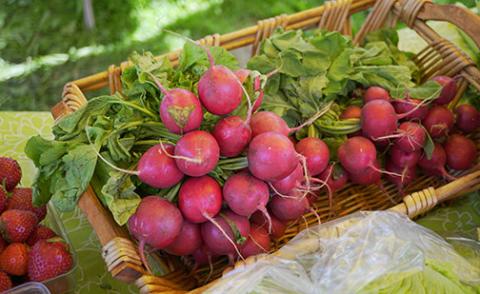 The Cheese People are a great place to start, with fresh mozzarella, parmesan, gouda, and more (find them at the Ypsi Market as well!) If you're there on a hot day be sure to grab a Hawaiian Shaved Ice. Build your salad with greens from Gateway Farm Organic Produce, and pick up some handmade vegetarian Indian food to-go from Curry Fresh. Are you a pickle person? Miss Kim's has sweet heat pickles, handmade jams, and more. Get some fresh lemon curd and a pastry to put under it from More… bakery, and check out Suzie's Cookies for a gluten free option.  Local and blended honey can be found from Heart of the Hill. The Good Shepherd will fix you up with locally grown tomatoes, root veggies, and ground beef. Grab a fresh baked loaf of Kalamata Olive Sourdough from Ypsilanti Food Co-Op. Soothe your inner geek with a pop-culture themed vegan soy candle from The Euphoric TreeFort, and pick up a handmade tiny birdhouse or wooden paper towel holder from Ken's Wood Crafts. Mi Compadre food truck has great on-the-go taco options as well.

The Dixboro Village Green group is finishing up renovating the One Room Schoolhouse - built in 1888 - and building a beautiful new pavilion. Focusing on building and fostering community, the market hosts special events including regular Movies on the Green, an Artisan Market, the Cars on the Green vintage car show, local musicians, community events, and more.  When you're finished at the market you can grab a coffee at Moonwinks Cafe right next door, then head over to chat with The Button Lady and spiff up your outfit with a new set of buttons.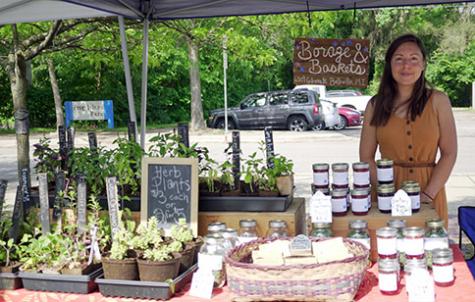 So pack up your reusable bags and head to your local market. And remember, the best way to know what's fresh and full of flavor is to ask the farmer, because to know your farmer is to know your food.

Ypsilanti Farmers Market
Saturdays and Tuesdays, May 4 through October 29
Sat: 9 a.m. – 1 p.m. 100 Rice Street in Depot Town, Ypsilanti
Tue: 3 – 7 p.m. 16 South Washington, Ypsilanti
Indoor season dates to be announced.

Dixboro Farmers Market
Fridays, May 31 through October 25
3 - 7 p.m.
Dixboro Village Green 5221 Church Rd, Ann Arbor

For a full list of farmers markets in Washtenaw County, visit www.washtenawmarkets.org
Like our content? Have all the latest area info delivered to your inbox. Subscribe to our monthly email newsletter.